Shop Roostin Ridge

Pedestals

12" - 16" Pedestals

Most Common

20" Pedestals

Large Game

24" Pedestals

Extra Large Game

24" X 32" Pedestals

Elk Sized Game

Other Pedestals

Unique Pedestals

Economy Series Pedestals

Budget Friendly Pedestals

Aromatic Cedar

Gray Barnwood

Hickory

Black Walnut

Classic Series Pedestals

Affordable Pedestals With Clean Lines

Black Walnut

Hickory

Oak

Cherry

Raised Panel Pedestals

Make A Statement With These Pedestals

Ambrosia Maple & Walnut

Burnt Pine

Black Walnut

Flat Panel Pedestals

Affordable Alternative To Raised Panels

Oak

Gray Barnwood

Hickory

Pyramid Pedestals

You Can't Find These Anywhere Else

Walnut & Hickory

Solid Walnut

Walnut & Tiger Maple

20" Classic Series Pedestals

Most Affordable 20" Pedestal On The Market

Cherry

Aromatic Cedar

Black Walnut

20" Raised Panel Pedestals

Simply Stunning

Hickory

Hickory & Walnut

Black Walnut

24" Classic Series Pedestals

Big Pedestal - Little Price

Gray Barnwood

Burnt Pine

Hickory

24" Raised Panel Pedestals

Largest Octagon Pedestal Offered

Red Oak

Ambrosia Maple & Walnut

Cherry

24" X 32" Classic Series Pedestals

Most Affordable Elk Pedestals On The Planet

Aromatic Cedar

Black Walnut

Hickory

24" X 32" Raised Panel Pedestals

Largest, Most Stunning Pedestals We Offer

Ambrosia Maple & Walnut

Red Oak

Black Walnut

Zebra Pedestals

Raised Panel Pedestal With Removable Hide Panels

Removable Panels

Comes standard with four removable panels to install your hide. They can be removed without tools. Super easy. Super fast.

Rustic Walnut

Our premium Rustic Walnut brings the looks. With our waterbased finish you will have the finest looking mount around.

Perfect Size

20" X 20" mounting surface made out of solid Black Walnut with no recess. This pedestal stands 30" tall, an ideal height for most mounts.

Custom Pedestals

We build 100's of custom pedestals each year

Ambrosia Maple

Maple & Walnut

Wormy Butternut

These are some of the smaller custom pedestals we have built. Get any style display in any wood choice, from Maple to Curly Oak. Need a cabinet style display? No problem! Need a round pedestal? No problem! We have the experience to build you the prefect display for your mount.
Browse the gallery below to see all the other cool displays we build.

Weathered Wood Pedestals

Unique Texture & Finish - Alternative To Barnwood

Classic Gray

White Wash

Red Sienna

Habitat Bases

Octagon Bases

Most Common

Oblong Octagon Habitat Bases

Popular For Lifesize

Square Bases

Maximize Your Space

Rectangular Bases

Medium Lifesize Animals

Custom Bases

Unique Builds

Octagon Habitat Bases

All Measurements Are Inside Dimensions

Oblong Octagon Habitat Bases

All Measurements Are Inside Dimensions

Square Habitat Bases

All Measurements Are Inside Dimensions

Rectangular Habitat Bases

All Measurements Are Inside Dimensions

Custom Built Bases - Just For You

Get Any Style or Size Base You Need

Big To Small - We Build Them All



Custom Base Gallery

Custom Made Pedestals

You Dream it. We deliver it.

Doors - Lights - Shelves - Custom Dimensions - We've Done It!



Custom Pedestal Gallery

Panels

Badge Panels

All Measurements Are Outside Dimensions

Classic Panels

All Measurements Are Outside Dimensions

Shield Panels

All Measurements Are Outside Dimensions

Free Shipping

Hidden Shipping Charges - A Relic Of The Past

Getting sick and tired of placing an order then getting hit with an unknown shipping charge that ends blowing apart your budget? We call that evil. We keep it simple - the price you see is the price you pay to get it to your door! So, let's stay on budget and let us deal with the joys of shipping. Check out the two options below to see how we ship your order.

---

100% Free Shipping on Orders $50+

Get your items shipped to you at no cost as long as you live in the lower 48 states. Need it shipped to your taxidermist? No problem just let us know. We ship all standard size packages via FedEx or SpeeDee Delivery. If your eyeing a pedestal for that world record Cape Buffalo or any other oversize item read the paragraph below.

Huge Items Get Free Truck Freight!

We might be a little crazy, but even our monstrous 48" pedestals get shipped for free! We carefully marked all oversize items so you know which ones are truck freight. There is only one small requirement - it has to be to a commercial address in the lower 48 or the trucking companies apply an additional charge of $85 to deliver to a residential address. If you want us to check your address just let us know. In addition, we also crate the pedestal for you at no additional cost. It dosn't get much better than that.

We like to try to keep it simple, it's just better for everyone! So if you have any questions about our shipping policies feel free to contact us. We look forward to serving you.

Clair Butcher, CEO
Roostin Ridge Woodworks
(320) 979 - 0335

Videos

Raised Panel Elk Pedestals

One of our newest videos walks you through our new Raised Panel Elk sized pedestals. These are our largest most impressive pedestals that we offer. Perfect for large gamehead mounts such as Elk, Moose, Bison or lifesize mammal mounts. They even ship free truck freight!

Check Out Our Videos

Help

We're Here To Help

Call Us

(320) 979 - 0335
Monday - Friday
8am - 5pm Central Time

Text Us

(320) 979 - 0335

E-mail Us

Visit Our Showroom

116 West Atlantic Ave
Po Box 371
Atwater, MN 56201
Languages


Home

24" X 32" Pedestals
24" X 32" Pedestals
Elk Pedestal
Bison Pedestal
Cape Buffalo Pedestal
Moose Pedestal

We specilize in building the highest quality pedestal bases you can get for your mounts. Each pedestal is hand built right here in the USA. Our skilled craftsman select only the best quality kiln dried hardwoods for your project. All pedestals are finished with our custom waterbased finishes, this means there is no odor, no yellowing, and an excellent feel when you touch the wood.

Get free shipping to all commercial addresses via truck freight. Save your hard earned cash, and let us cover the shipping. Each pedestal comes with a 100% Money Back Guarentee. If you ever have any questions or problems, we'll take care of you. If you have any questions please contact us.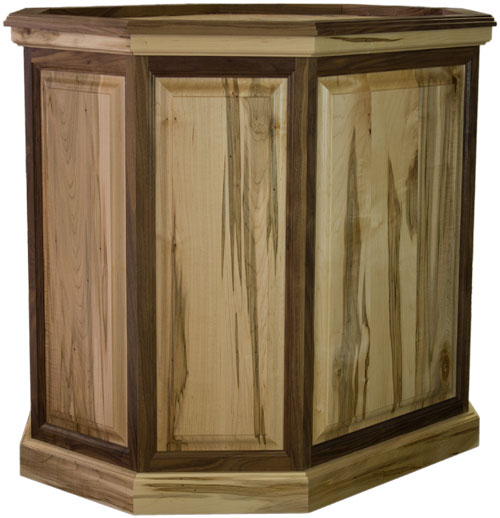 Raised Panel 24" X 32"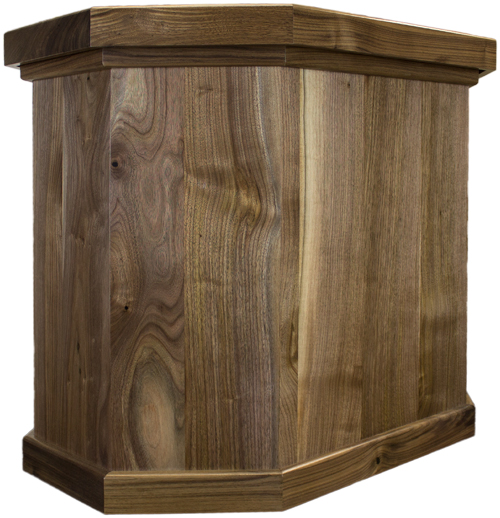 Classic Series 24" X 32"