Custom Pedestals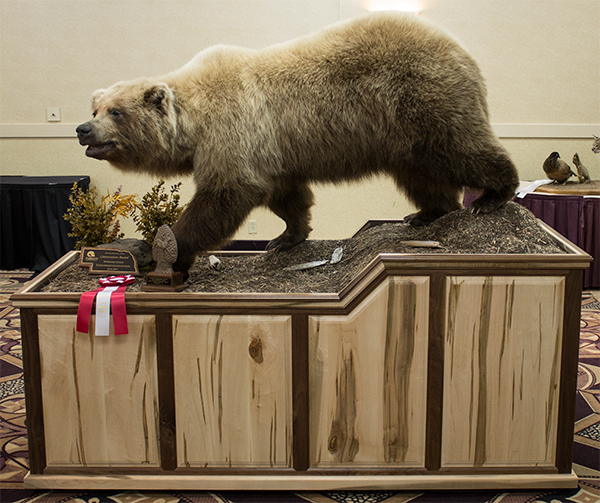 Unique bear pedestal designed and built for Mike B. in Kansas. Mike was on a mission to put together a very unique mount for his showroom and to take to competitions and shows. He called and said he needed a big pedestal, and he wasn't kidding. The pedestal measures 7 feet long, three feet deep, and 3 feet tall and weighing in at around 400 lbs.
This project presented a couple of unique challenges because of the size of this pedestal and the size of the bear. To aid in moving this pedestal in out of shows, trailers, and competitions we added castors to lighten the load. Mike needed room to mount the bear and do habitat work, so the top had to be removable. There is no way to work from under this beast. It also had to be two different heights to accommodate the bear form.
All this was done with a few phone calls to Mike and a picture of the bear form in a catalog. We built the frame work out of solid black walnut, with the panels and trim being made from Ambrosia Maple. Mike knew that from day one there had to be maple in this pedestal to tie into the bear mount, and he was 100% right. Around the very top trim we inlayed a solid maple strip to dress it up a bit.
Popular Habitat Bases
Popular Pedestals
Featured Pedestals
Zebra Raised Panel Pedestal
Rustic Black Walnut with raised panels are only half of what makes this pedestal cool. Removable panels install with no tools, ready for you to apply the hide of your choice. Large mounting surface of 20" with a overall height of 30".
Details
Extra Large Elk Pedestal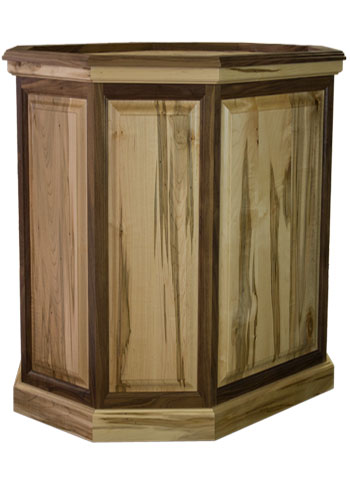 Tons of space for that monster sized mount, perfect for Elk, Bision, and other very large game. Features a spacious 24" X 32" mounting surface for plently of space. You can get a optional flat top. Overall height of 30".
Details
Visit Our Showroom